Overview
Highlights & Benefits
YOU'RE INVITED!
Education – Interaction – Relaxation! We invite you to join us at the 2017 Advanced Critical Care & Emergency Nursing Conference in Las Vegas to experience all three. ICU and ED nurses are a unique group of high energy, confident, quick-thinking individuals with an ever-present need for more knowledge in order to provide the best possible care and outcomes for their patients. We look forward to helping you achieve this goal through presentations provided by nationally-known experts, interaction with your colleagues and the faculty, shared problem-solving and in-depth case study discussions. Then enjoy the many opportunities Las Vegas offers for relaxation including a wide variety of restaurants, shows and entertainment, and shopping.
Return to your units energized and ready to meet the daily challenges your ICU and ED clinical practices present.
HIGHLIGHTS AND BENEFITS
A full-day Preconference dedicated to 12 Lead ECG Interpretation: Journey from Basic to Complex, where your understanding and interpretation of 12 Lead ECGs will improve through tips, tools and case studies provided by the faculty.
Main Conference General Sessions, in which speakers will address issues and challenges relevant to both ICU and ED staff.
Concurrent Sessions allowing attendees to participate in 5 classes from a choice of 20, offering specialty-specific options as well as broad-based sessions that apply to caring for all critically ill patients.
Conference speakers who will empower you to think critically and act appropriately and safely when confronted with urgent and emergent clinical situations.
Opportunities for networking and lively conversations with friends and colleagues.
Mark your calendar, invite your colleagues to join you, and register early for this exceptional educational event in the city that never sleeps – Las Vegas!
Conference Co-Chairs
Helen F. Brown, MS, BC-ACNP, BC-FNP
Kathryn T. Von Rueden, MS, RN, ACNS-BC, FCCM
Senior Program Manager
Jeannine Strunk, BSN, RN
Contemporary Forums
Host City: Las Vegas
Viva Las Vegas! It's impossible to resist the excitement of the neon lights, the shrieks of delight from jackpot winners, and the glitz and glamour of the hotels on the strip. A Disneyland for adults? You bet!
Conference Objectives
This program will enable experienced ICU and ED clinicians to:
Better assess critically ill and injured patients, provide timely, appropriate evidence-based care, and evaluate patient response through collaboration with the ICU and/or ED team.
Explore pharmacologic challenges surrounding anesthesia, Cytochrome P450, antimicrobial use and abuse, street drugs, overdoses, anticoagulation and ED medications.
Utilize information from new STEMI and Sepsis Guidelines when assessing ICU and ED patients.
Describe the utilization of diagnostic and monitoring tools including 12-lead ECG, PA catheters and imaging.
Examine the pathophysiology associated with toxidromes, acute CHF, cardiomyopathy, pulmonary arterial hypertension, AKI, brain death and endocrine emergencies.
Who Should Attend?
Experienced clinicians involved in the care of critically ill and injured adults.
If you are a …
Staff Nurse
Clinical Nurse Specialist
Nurse Practitioner
Nurse Manager
Physician Assistant
Educator/Instructor
Clinical Coordinator
Transport Nurse
Case Manager
Working in any Adult …
Intensive Care Unit
Trauma Unit
Emergency Department
Step-Down Unit
… then this is a "must attend" conference is for you!
I was thoroughly impressed with the professionalism and knowledge of all the speakers and their ability to keep the audience engaged. George Moussally, MSN, ACNP-BC, CCRN L
Accreditation
In support of improving patient care, Contemporary Forums is jointly accredited by the Accreditation Council for Continuing Medical Education (ACCME), the Accreditation Council for Pharmacy Education (ACPE), and the American Nurses Credentialing Center (ANCC), to provide continuing education for the healthcare team.
Nurses and Nurse Practitioners
Preconference: 7 ANCC/8.4 CA BRN contact hours
Main Conference: 17.75 ANCC/21.3 CA BRN contact hours
Contemporary Forums is approved by the California Board of Registered Nursing, Provider #04516.
(CA BRN contact hour = 50 minutes)
ANCC Certified NPs and CNSs
This course provides a maximum of 8.25 pharmacotherapeutic hours toward the required 25 hours needed for ANCC recertification.
Pharmacology Credit for Prescriptive Authority
Main Conference: 8.25 hours available
Rx indicates pharmacology content. Because states' requirements vary, contact your Board of Nursing and certifying agency for the specifics of individual Rx requirements.
Physician Assistants
Preconference: 7 hours
Main Conference: 17.75 hours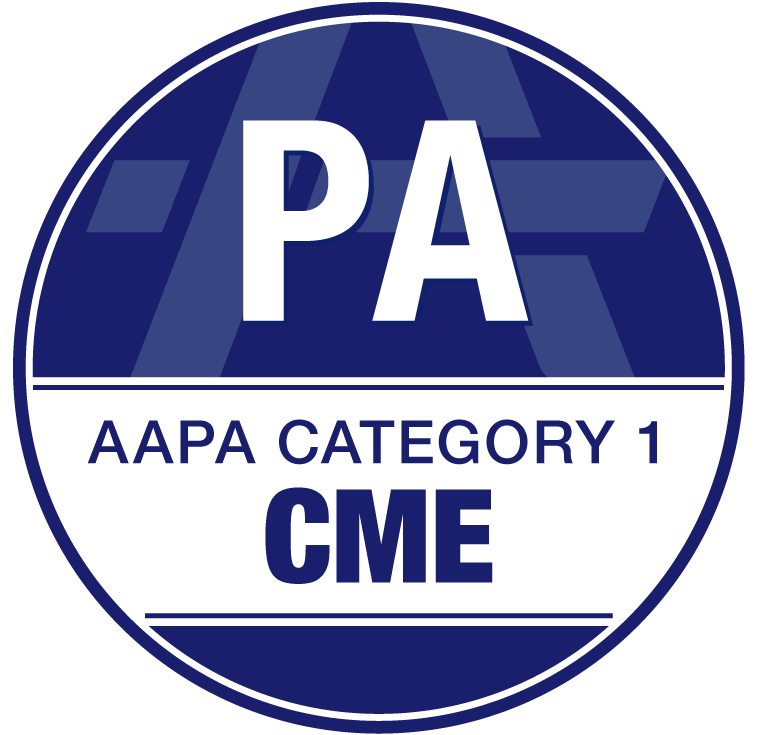 This program has been reviewed and is approved for a maximum of 24.75 hours of AAPA Category 1 CME credit by the Physician Assistant Review Panel. Physician Assistants should claim only those hours actually spent participating in the CME activity.
Case Managers
Preconference: 7 contact hours
Main Conference: 17.75 contact hours
This program has been pre-approved by the Commission for Case Manager Certification to provide continuing education credit to CCM® board certified case managers. The CCMC awarded a total of 24.75 contact hours for the Preconference and Main Conference.
Joint accreditation is the leading model of interprofessional collaboration that helps improve healthcare through continuing education for the team by the team. Contemporary Forums is one of 42 continuing education organizations to receive Joint Accreditation.
Location
Host City: Las Vegas
Viva Las Vegas! It's impossible to resist the excitement of the neon lights, the shrieks of delight from jackpot winners, and the glitz and glamour of the hotels on the strip. A Disneyland for adults? You bet … and Las Vegas is so much more! Dine at restaurants inspired by the world's greatest collection of chefs--Wolfgang Puck, Emeril Lagasse, Bobby Flay and Thomas Keller, just to name a few. Treat yourself to a world-class show, including a choice of seven Cirque du Soleil productions, the Blue Man Group or an ever-changing variety of celebrity performers at Caesars Palace, Hard Rock Café and T-Moble Arena. Make sure to also consider the variety of well-known headliners from the worlds of music, comedy and magic performing during your stay.
The Park, which opened Spring 2016, is an eclectic blend of restaurants, bars and entertainment connecting New York New York, the Monte Carlo resort and the new T-Mobile Arena. The Park offers an array of common spaces for socializing, relaxing, exploring and sampling the surrounding tastes, sights and sounds. Unique water features and dramatic plantings incorporating a variety of beautiful desert blooms provide unexpected visuals to add to your enjoyment. Don't miss the CityCenter complex located in the heart of The Strip, a blend of sleek architecture and public miniparks, with walkways and art throughout. You'll find luxury hotels, casinos and Crystals, a three-story retail center whose shape resembles the multi-faceted surface of a quartz crystal.
There's never a dull moment in Las Vegas. Watch the volcano erupt at the Mirage, don't miss the rousing pirate battle at Treasure Island, marvel at the dancing waters display at the Bellagio, take a romantic gondola ride through the canals of the Venetian or dine at the top of the Eiffel Tower at Paris. For a break from The Strip, take a day trip to Hoover Dam where you'll be impressed with the power of the mighty Colorado River. You'll want to take in Las Vegas' newest attraction, the LINQ Promenade. This dining, shopping and entertainment complex features a 550 foot observation wheel right in the heart of the Strip. The views of the Las Vegas valley are spectacular!
At the newly renovated Tropicana, you'll find luxury rooms offering comfort, style and sophistication, with open floor plans, premium amenities, plush new mattresses, and modern technology such as 42" LCD TVs and iHome clock radios with universal docking stations. An enticing casino awaits, offering all the best Las Vegas games, including your favorite slots and table games, a state-of-the-art race and sports book, and an award-winning rewards program. Share a meal with friends at a variety of restaurants, ranging from an Italian trattoria to a steakhouse to a 24-hour café. Other highlights include the addition of a Mandara Spa, a modern spa and fitness center.
World-class dining, internationally-known boutiques, award-winning golf courses, savvy nightclubs and European-style spas are calling you to this glittering city, known as "Vegas!" Join your colleagues for "Advanced Critical Care & Emergency Nursing" and enjoy all of the fun in the city that never sleeps. For more information, call the Las Vegas Convention and Visitors Authority at (702) 892-7575 or go online to www.visitlasvegas.com.
Hotel/Travel
Hotel Accommodations
This conference will be held at the Tropicana Las Vegas, A Doubletree by Hilton, located at 3801 Las Vegas Boulevard South, Las Vegas, NV A limited block of rooms is being held for you and your guests at special group rates which will be in effect, based on room availability, from October 30 to November 4, 2017 for those wishing to extend their stay to enjoy area activities or qualify for discount airfares.
Rates: $139 single/double. Rates are per room and subject to prevailing state and local taxes.
To reserve your room online, click HERE.

Resort Fee. Room reservations are subject to a daily resort fee of $10. Resort fee includes daily in-room high speed internet access on one device, fitness center access, and 2 bottles of water upon check-in.

To obtain the special group rates, make your reservation before October 9. Rooms may sell out before this date so be sure to make your reservation now. After the release date, call the hotel as rooms and group rates may no longer be available.

For room reservations, call (888) 381-8767 and inform them that you are attending the Contemporary Forums' conference Advanced Critical Care & Emergency Nursing. Request a confirmation number and written confirmation of your reservation. Reservations must include a first night's deposit.

Contact the hotel regarding cancellation policy. For arrivals after 3 p.m., call the hotel on the day of travel to reconfirm reservations.

For additional hotel information, call the hotel at (702) 739-2222.
Travel Discounts
Contemporary Forums has a special discount agreement with United Airlines unavailable to the general public. To obtain these special conference fares visit www.united.com or (800) 426-1122 insert Offer Code ZXAY744468. Ticketing and payment can be done directly by you or through your travel agent. To ensure the best flights and times, since seats are limited, make your reservations early. Fares are guaranteed at the time of the ticket purchase.
Hertz is the official car rental agency for the conference. Special rates will be in effect throughout the conference as well as one week before and after. For special rates and reservations, call HERTZ at (800) 654-2240 or (405) 749-4434, or go online at www.hertz.com and refer to Contemporary Forums plus the conference discount code CV#03000264.
LASxpress
Coach service from the airport to your hotel.
Economy Service - $11 per person (one way), $22 per person (roundtrip)
To make your reservation, click HERE.
Tuition
Registrations must include full tuition payment to be accepted. Registrations faxed without payment will not be processed. Conference communications are sent via email. When registering please provide attendee's best email address as some emails are filtered and blocked. Since conference registration and hotel rooms are limited, early registration is advised.
Tuition (U.S. Funds)
PRECONFERENCE
Preconference: The 12 Lead ECG Interpretation: Journey from Basic to Complex
All Attendess

Early Registration Fee
(On or before October 1, 2017)

$255.00

Regular Registration Fee
(After October 1, 2017)

$285.00
MAIN CONFERENCE
Nurse, Case Manager, Nurse Practitioner, Other

New Graduate*

Early Registration Fee
(On or before October 1, 2017)

$525.00

$395.00

Regular Registration Fee
(After October 1, 2017)

$575.00

$395.00
ONLINE LEARNING
| | All Attendees |
| --- | --- |
| Regular Registration Fee | $330.00 |
Postmarked or phone/fax/online registration and fees received on/before September 20.
*New Grads (graduated 2014 or after): To qualify, submit proof of graduation date with registration.
Your tuition includes continental breakfasts, refreshment breaks, Certificate of Attendance and online access to posted presentation handouts before and after the conference.
Attendance Rules
Registrations may not be shared. Children of any age and spouses may not attend sessions. Audio recording, video recording and livestreaming of speakers, sessions and/or attendees is strictly prohibited. Medical information presented at this conference is intended for educational purposes only and should not be considered medical advice.
Register Online, or by Phone, Fax or Mail (Payment is required to register)
Register only ONCE, online at www.ContemporaryForums.com, by mail or fax (800) 329-9923, or call (800) 377-7707, Monday-Friday, 8 a.m. - 5 p.m. (Pacific Time). Before calling, complete all registration information.
Method of Tuition Payment
Make payment by check (payable to Contemporary Forums and enclose with Registration Form), Visa, MasterCard, Discover, American Express or Purchase Order. A $30 fee is charged for any returned check. Personal checks are NOT accepted at the conference. Purchase Orders must be received with registration by the conference date and include the P.O. number, invoice address, tuition, approval signature, contact name, email address and phone number.
Group Discounts (Mail, fax or call in together. Online registration is not available)
Tuition discounts are given to groups of 3 or more registering for the complete Main Conference. Discounts do not apply to the Preconference. To qualify for the group discount, all registration information must be complete for all group members,
payment included and forms sent together. If faxing, list all group members on cover sheet. Subtract the discount from the tuition fee. Groups may not be formed after individual registrations are received.
$25 per person discount for 3 or 4 in a group
$45 per person discount for 5 or more in a group
Partial Attendance (Online registration is not available)
To register, call Contemporary Forums for tuition and CE credit for individual days. Group discounts do not apply.
Cancellations
Cancellations must be made by phone or in writing. A $75 processing fee will apply. No refunds will be issued for cancellations received or postmarked on/after October 3. However, tuition paid, less the $75 processing fee, may be applied to a future Contemporary Forums conference of equal or greater value. No refunds for "no shows."
Program Changes
Contemporary Forums reserves the right to make necessary changes in speakers, topics or schedule. The most current program can be found on our website.
Questions? Contact Contemporary Forums at (800) 377-7707, Monday - Friday, 8 a.m. - 5 p.m. (Pacific Time) or email info@cforums.com.
If you require special arrangements at this conference, call (800) 377-7707, at least 30 days prior to the conference.
Online Learning
| | All Attendees |
| --- | --- |
| Regular Registration Fee | $330.00 |
EARN CE CREDIT ONLINE AT YOUR CONVENIENCE
RECORDED CONFERENCE
You will receive access to all recorded Preconference and Main Conference sessions for 3 years and earn over 40 hours of ANCC credit.
Register today by selecting the Online Learning option. Register by October 31 to receive the pre-order discount of $330. Access instructions to log into your account at ContemporaryForumsOnline.com will be emailed approximately 2-3 weeks after the end of the conference.
NEW! Spanish Medical Terminology for Health Care Professionals!
Contemporary Forums has developed an interactive, self-paced online course to help teach the novice or native speaker Spanish medical terminology. You earn a Certificate of Completion and Continuing Education credit when all modules are completed. Even if you are fluent in Spanish, you would learn the appropriate vocabulary for human anatomy and medical terminology.
Exhibitors
Exhibit with Contemporary Forums and Reach your Target Audience at the Advanced Critical Care and Emergency Nursing Conference.
Exhibiting at a Contemporary Forums conference will cost-effectively increase your brand and product visibility with your targeted customers. Your resources will be focused on an optimal, attentive, engaged audience. Become an exhibitor, register today!
Why Exhibit
Enhance the profile of your organization by supporting a premier healthcare conference
Interact with a target audience of top healthcare specialists from around the country
Create marketing and sales opportunities for both your national affiliates and global operation
Become an Exhibitor
Contact the Contemporary Forums exhibit team today to learn how one of our events can help you achieve your sales and branding objectives.

Exhibitor Prospectus

Advertising and Marketing Opportunties

Register to become an exhibitor

View conference calendar


Questions about your exhibit space or sponsorship, please contact Elaine White at ewhite@cforums.com or call (925)361-4807 for details.